Venice Suites - Los Angeles
33.9937288

,

-118.47930630000002
Los Angeles

,

United States

|
196US$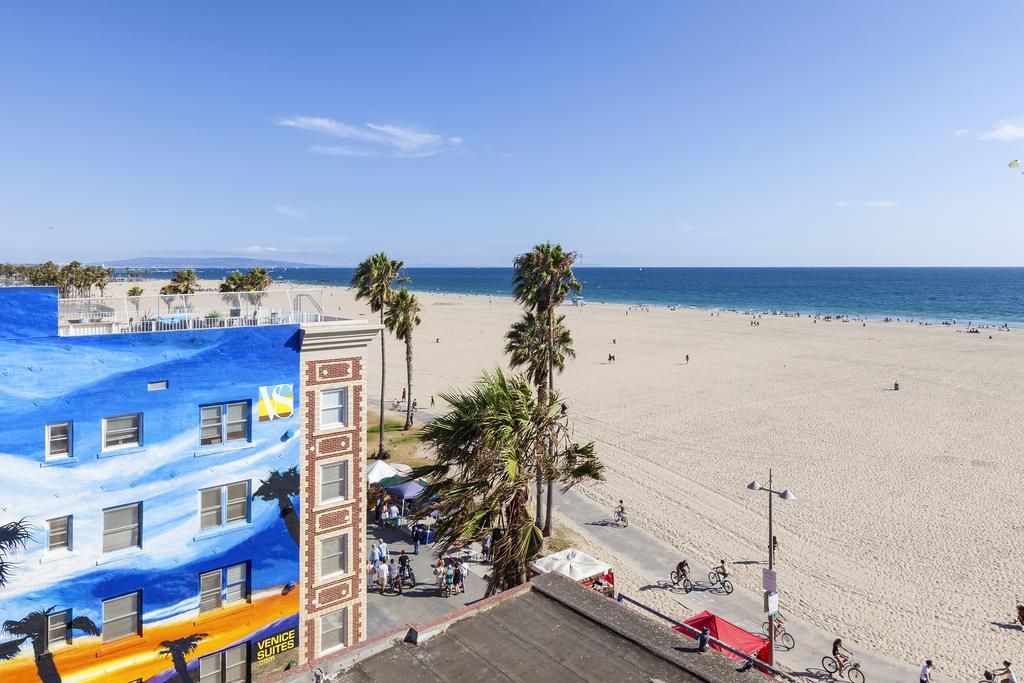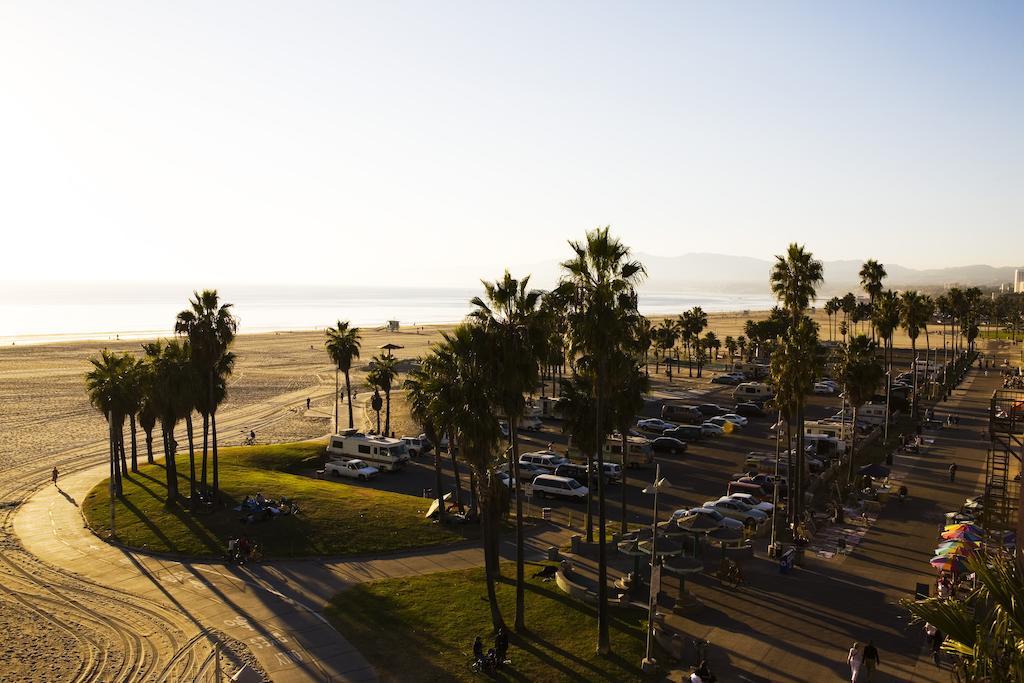 Address
417 Ocean Front Walk
,
Los Angeles
,
California
,
United States
,
90291
,California
Overview
The 3-star Venice Suites Los Angeles is a great place to stay in the Venice Beach district, a mere 0.6 miles from Venice Sign. Guests traveling by car can also use private car parking nearby.
Location
Santa Monica Pier is around 1.7 miles from the beachfront hotel, while Pacific Park is a 10-minute drive away. At the hotel you'll be less than 10 minutes' walk from Santa Monica State Beach. The sandy beach is 10 minutes' walk away. Venice Suites lies approximately 6 minutes' stroll from Southeast Asia POW and just a drive from Venice Beach Drum Circle.
Main & Sunset bus stop is set a 10-minute walk away.
Rooms
Looking onto the boardwalk, some of the 31 rooms are appointed with vaulted ceiling. Guests will appreciate comforts like a ceiling fan and an iron, and relax with TV and a cable flat-screen. A tub and showers are available in private bathrooms.
Eat & Drink
The Santa Monica Pier is set 10 minutes by car from the accommodation.
Internet
Wireless internet is available in the entire hotel for free.
Guest Parking
Private parking is possible at a location nearby at USD 20 per day.
Number of floors:   4.  Number of rooms:   31.
Facilities
Most popular facilities
Kitchen facilities
Kitchen
Cookware/ Kitchen utensils
General
Wi-Fi
Parking
Baggage storage
Laundry
TV
Elevator
Kitchen facilities
Spa & Leisure
Beach access
Beach umbrellas
Sun terrace
Room features
Heating
Dressing area
Terrace
Garden furniture
Tea and coffee facilities
Dining table
Ironing facilities
Self-catering
Kitchen
Cookware/ Kitchen utensils
Good to know
Check-in
from 15:00-20:00
FREE
Check-out
until 11 am
FREE
Children & extra beds
There are no cribs provided in a room. 
Pets
Pets are allowed on request.
Rooms and availability


One-Bedroom Beachfront Suite

Location
417 Ocean Front Walk
,
Los Angeles
,
California
,
United States
,
90291
,California
City landmarks
Nearby
Restaurants
Hotels nearby
Beach
Santa Monica State Beach
1.5 mi
Mall
Downtown Santa Monica
1.8 mi
Park
Venice Skate Park
3000 ft
Beach
Muscle Beach Venice
3900 ft
Aquarium
Santa Monica Pier Aquarium
1.5 mi
Washigton Blvd. & Dell Ave.
Venice Canals Walkway
1.3 mi
Los Angeles
Abbot Kinney Boulevard
3900 ft
Museum
California Heritage Museum
3300 ft
340 Main St
Chiat-Day Building
3100 ft
Park
Dorothy Green Park
3400 ft
1855 Main St
Santa Monica Civic Auditorium
1.4 mi
Market
Santa Monica Sunday Main Street Farmers Markets
3100 ft
Store
Kippy's Non-Dairy Ice Cream Shop
3100 ft
340 Main St
Binoculars Building
3100 ft
245 Main St
YAS Fitness Center
3100 ft
998 Ocean Front Walk
Venice Beach Drum Circle
1800 ft
417 Ocean Front Walk
Mural on the side of Venice Suites
1700 ft
corner of Pacific Avenue and Sunset Court
Public Art "You Are Not Forgotten"
1700 ft
Restaurant
The Wee Chippy Venice California
2300 ft
Restaurant
Charly Temmel Ice Cream
2500 ft
Getting around
Airports
Los Angeles International

(LAX)
7.3 mi
Hollywood Burbank

(BUR)
24.2 mi
Train
Wilshire / Western (LACMTA station)
11.8 mi
You can book a shuttle, once your reservation is complete.
Essential information about Venice Suites
| | |
| --- | --- |
| 💵 Lowest price | 196 US$ |
| 📏 Distance to center | 8.8 mi |
| ✈️ Distance to airport | 7.3 mi |
| 🧳 Nearest airport | Los Angeles International, LAX |
Reviews of Venice Suites
John

The view was stunning, right overlooking the ocean and beach. The apartment had all the amenities I needed and the decor was modern and bright. The hotel's location was perfect, right on the beach and close to amazing restaurants. The staff were extremely helpful and gave great recommendations for things to do in the area.

All was perfect.

Gordon

Generally GREAT service with parking on site. Separate bedroom. Incredible location, walking distance to everywhere.

Dennis

I appreciated this, haven't been in a better hotel. This was a great stay for 2 nights. The location was top, within easy walking distance of High. The rooms were gorgeous, the staff was polite.

Graham

Great location near the beach, spacious and clean rooms, suitable kitchenette, adequate security, quiet area for a good night's sleep. Would definitely stay here again.

Jason

Had a spotless room for a great stay for 2 nights. Hypo-allergenic pillows and an exceptionally comfortable bed. Brilliant location across from a restaurant and a 10-minute walk from High. Appreciated the early check-in and the convenience of nearby parking.

Paul

Clean, bright rooms with nice decorations. Convenient kitchenettes and rooftop patio with grill. Perfect location right on the boardwalk, close to restaurants and bars. Ideal for extended stays with a stocked fridge.

Adam

If you love the ocean, this hotel is perfect for you. It is located right on the boardwalk, giving you a breathtaking view of the sea. The hotel also offers great activities for leisure such as bike rentals. The room service is exceptional and the breakfast comes with an array of options to choose from.

The stairs are quite steep and difficult to maneuver if you have a lot of luggage.

Gavin

Amazing Oceanfront apartment with breathtaking views. Clean and bright rooms with a beachy vibe. Conveniently located near Santa Monica boardwalk. Stunning rooftop deck, perfect for enjoying the beautiful surroundings. Great spot for a beach getaway.

Gillian

I recently had the pleasure of staying at this hotel during my vacation and I must say, it exceeded my expectations in many ways. Firstly, the value for money was outstanding. The prices were reasonable and affordable, especially considering the prime location right on the beach in Venice. It was fantastic to have everything I needed within walking distance, including a wide array of restaurants and shops. The staff were friendly and attentive, always ready to assist with any needs. The rooms had a real 'beach' feel to them, with a kitchenette included, which was a huge convenience. The views from the upper floors were absolutely breathtaking at sunset. Lastly, the breakfast provided was delicious and a great way to start the day.

All aspects of my stay at this hotel were wonderful.

Pamela

This hotel is a great value for money option. The prices are reasonable and the attention to detail is impressive. The rooms come with a full kitchen, allowing guests to prepare their own meals and save on dining expenses. Additionally, the hotel is located in a fairly run down area, but it is conveniently situated on the boardwalk, providing easy access to restaurants and shops. The beachfront views are simply amazing, offering guests a great view to enjoy throughout their stay.

The only downside to this hotel was the lack of air conditioning. Despite this, the overall experience was fantastic.

Steve

Excellent staff, spacious rooms, clean, beachfront location, rooftop view, helpful.

Nothing that I didn't like.

Robert

The rooftop terrace offered stunning views for a relaxing evening. Our room had all the essentials and was a peaceful haven to return to. The location makes it easy to explore the surrounding area. a great stay.

Cameron

The hotel is conveniently located near the boardwalk, making it easy to access the beach. The room was spacious and well-equipped. The staff was friendly and helpful, ensuring a smooth check-in process. Additionally, there are several options for dining and shopping nearby.

The noise level was high, particularly at night, due to the presence of homeless individuals in the surrounding area. This may not be suitable for those who are sensitive to noise or concerned about safety.

Philip

The location of the hotel is fantastic, as it is very close to the beach and right on the Venice Beach Boardwalk. Guests can easily walk to Venice Beach and enjoy the beautiful surroundings. The rooms are spacious and comfortable, with a great view of the beach. The staff provides excellent service and is always helpful.

Some guests have mentioned that there are tents and improvised dwellings of homeless people nearby, which can make the area feel unsafe at times.

Charles

Amazing location, right in the middle of Venice and Santa Monica, with easy access to the beach. Facilities were excellent, including a well-equipped kitchen, comfortable bed, clean bathroom, and great entertainment options like a TV, iPod dock stereo, and reliable Wi-Fi. The roof terrace with laundry facilities, outdoor grill, and boogie boards for the beach was a bonus. The staff were friendly and helpful.

Felt lucky, didn't encounter any major issues or inconveniences.
FAQ about Venice Suites
What landmarks can I find in vicinity of Venice Suites?
Top-rated landmarks in Los Angeles include Venice Sign as well as the large double-jointed Santa Monica Pier, placed within 0.6 miles and 1.5 miles from Venice Suites respectively. Venice Skate Park (0.7 miles) is also worth a visit.
What interesting sites can I visit not far from the Venice Suites?
The closest landmarks to the Venice Suites include Southeast Asia POW (0.3 miles), General Admission (0.4 miles) and Venice Beach Drum Circle, accessible with a 7-minute walk.
Is there parking at the 3-star Venice Suites?
Yes, the 3-star Venice Suites features private car parking available nearby.
Can I have lunch or dinner next to Venice Suites?
Restaurants near Venice Suites include On the Waterfront Cafe (800 feet) famous for American cuisine as well as Dudley Market (200 feet) featuring American dishes.
What time is check-in and check-out at the Los Angeles hotel?
Guests of the Los Angeles hotel can check in from 3 PM to 8 PM and check out from 11 AM.
How much does it cost to stay at the Los Angeles hotel?
The price for a room in the Los Angeles hotel starts at $269.
Which amenities are included in the rooms at Venice Suites?
Every room at Venice Suites includes a flat-screen TV with satellite channels as well as smoke detectors and an electronic key card for guests' security.